Piccolo:
Scale DE Patent Nr. 3 502 842 & US Patent No. 4 714 000
The Braun piccolo has been on the market since 1985. This instrument is used by a large number of leading soloists and orchestral flautists, and is currently considered one of the best piccolos in the world.
Sound sample:
Braun Piccolo
Solo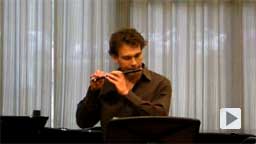 J.S.Bach Partita for Piccolo
Lloyd Hudson
Australian National University
Canberra School of Music
2009
Lloyd Hudson/Tasmanian Symphony Orchestra


10:03 min.

Small flute / piccolo flute down to low C :
has been on the market since october 2010.
Scale protected by Patents: US 8 389 840 B2, DE 10 2011 010 124 & DGM 20 2010 016 134.7
Sound sample:
"small flute" in the
Symphony Orchestra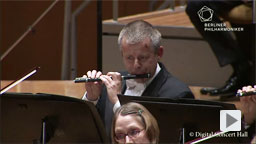 Dmitri Schostakowitsch Symphonie Nr.8
c-Moll op.65
Berliner Philharmoniker, Andris Nelsons
16.Okt.2010
1:43 min. aus 2.Satz Allegretto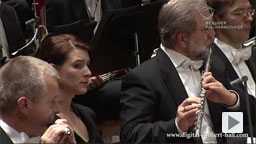 Gustav Mahler Symphonie Nr.2 c-Moll
Berliner Philharmoniker, Sir Simon Rattle
30.Okt.2010
1:31 min. aus 5.Satz Im Tempo des Scherzo
Prof.
Michael Hasel
with small flute /
Andreas Blau
principal flute
The concert in full length. Digital Concert Hall / Informationen

Sound samples:
"small flute"
Solo and with piano
• Three Excerpts from the CD "BROKEN BRANCHES"

"BROKEN BRANCHES" compositions by STEPHEN HOUGH

• More sound examples can be found on the website of
Vlad A.Colar

Soloflute with the Banatul Philharmonie Orchestra


Sound samples

for mobile devices


The chief characteristics of Braun piccolos are:
excellent intonation and an even sound throughout the three registers
big, focused sound, especially in the low and middle registers
easier response, especially in the difficult third octave
In addition, the Braun C-foot Piccolo has, compared to the Braun D-foot Piccolo, a better tonal balance in all three registers.
The main characteristics of the piccolos down to low C
, compared to the traditional Piccolos, are:
Greater tonal volume and therefore also a more pleasant sound, especially in the third octave.
The tonal balance in all three registers is much better.
Easier response/articulation, especially in the third octave.
Much more special grips of the big flute are possible to use.
Specification:
Grenadilla/African blackwood head and body:
headjoint with "A.Braun" modified-wave embouchure which is smooth where the lips touch
925 sterling-silver mechanism
with split E mechanism (without split E mechanism is not made!)
fitted with "A. Braun" silicon piccolo pads

Headjoint with modified-wave embouchure.
Wood:
The basis for the exceptional quality of Braun wooden flutes and piccolos is the selection of high-grade woods.Thus only carefully-selected, well-seasoned, extremely close-grained and attractive black African
grenadilla/
African blackwood (Dalbergia melanoxylon) with excellent tonal qualities is used.
A. Braun pads for piccolo
(DGM 296 05 677.4 / Patent pending)

These pads are made of a material insensitive to moisture and with a coating on the side facing the tone hole. The coating consists of silicon rubber, which has a microstructured surface. This structure is similar to the surface qualities of the wooden bore, thus ensuring the deadening of undesirable high frequencies.
The new construction of the pad creates:
a quick, powerful, clear response
a particularly well-structured and beautiful sound
a very pleasant feel
reliability of the padding as a result of the insensitivity to moisture and stable shape of the silicon-rubber layer
long period of usage without adjustment
Special models,
such as instruments with

gold-plated mechanism

, open G-sharp key or other customised features can be planned and manufactured.

Piccolo with open G-sharp

Piccolo with open G-sharp and with inverted B-Bb thumb lever
Pitch
Flutes and piccolos can be supplied with scales at the following pitches: a' = 440 Hz or 442 Hz or 444 Hz
The basic pitch facilitates unproblematic playing within a ± 2Hz range, according to personal playing style.
Customising
Within a year of purchase, the instrument supplied will upon request be customised to suit the individual's personal playing style. Leather case with a padded cover.
Accessories