The instruments are made only by order and handcrafted personaly by Anton Braun and daughter Antonia Simon.
Information abaut how to order you can find on our "Current price list".
For further information, or other questions which you could not find on the FAQ-Site and in the price list, you can contact us.
Anton Braun
In den Obergärten 22
D-63329 Egelsbach
Germany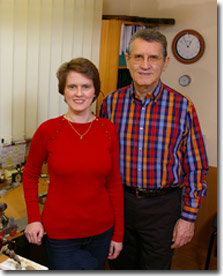 *
The delivery time can vary seasonally over the year. The current delivery time you can ask us by sending your e-mail address or you call us.
Email with current
delivery times